Tow Trucks in Sydney Fast & Cheap (24/7 Services)
Tow Trucks in Sydney Fast & Cheap (24/7 Services)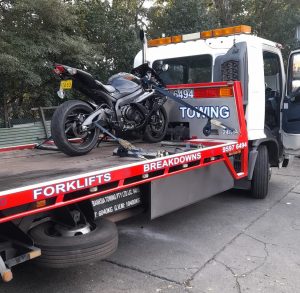 Tow trucks in Sydney have lent great help to residents by providing easy and quick towing services. Banksia Towing has been providing quality services for more than 10 years now.
Towing a vehicle to any corner of the town does not seem much of a task. But, if you look closer to it, your one wrong decision can put your vehicle at risk of damage. So, you need to wisely decide on a towing company.
Tow Trucks in Sydney has been a lot well done with the help of some greatest towing networks. Even though these companies provide security and reliability, you need to know some basic towing queries. These tips will help you to get your vehicle perfectly towed to any place without any risk.
Check the fleet 
One of the basic requirements for Tow Trucks in Sydney is to check the fleet for your car's safety. The fleet refers to the trucks that will tow your car. A towing company needs to have a truck that can bear maximum weight with ease. It will also ensure that you have given your vehicle in safe hands. Go for a towing company that can bear 10 tonnes of weight.
Tow Trucks In Sydney select a licensed company 
Tow Truck in Sydney can never happen if the government does not give authorization. So, if you have been scammed ever, the chances are great you were in the wrong place. If you have missed out on checking the license of the company, you can still rectify it. Now, when you ask for any towing company, make sure to ask for an authorized license by relevant authorities.
Address your concerns 
You cannot expect any towing company to get things right if you don't communicate all your concerns. So, whenever you are in contact with any towing company, sit down and address all your concerns with them. This will be beneficial and best in the interest of both parties. Apart from that, you will also make them aware of some basic things that you want from them.
Ask for other services 
Any towing company operating in Sydney might also provide some other car-related services. The best suggestion here is to go for a company that does it all. This will save you from a lot of chaos as it builds your trust with them. Next time, when you need some emergency help, you will know who to contact.
Chat with drivers 
The drivers that come to tow your vehicle are an important asset of any towing company. They do their job perfectly which means that you do not have to worry about anything. So, it would be better if you ask some basic questions from the drivers to further know the company and its patterns.
Working on all these points will help you to land on one of the best companies in Sydney. If you are looking to tow your vehicle, you can always reach out to Banksia Towing. You can always ask as many questions as you want, and we will be happy to assist you.
We provide 24/7 prompt service with authorized licensing and a team of hardworking drivers. Tow Trucks in Sydney has been our favorite job and we do it with our heart.
Sydney Dump Body Towing Company
At Fast Towing Sydney you will receive your vehicle with the best tipped body from Towing Company Sydney. This allows us to tow large and small vehicles to your destination.
Abandoned car being towed in Sydney
All you have to do is tell our company the location of your vehicle and we will deliver it to you in the best Sydney tow trucks.
Long-distance vehicle towing in Sydney
Fast Towing Sydney makes it easy for you to take your car to your desired location. This means you get access to cheap car towing services in and around Sydney Tow Trucks in Sydney.
Container transport in Sydney
Use the Fast Towing Sydney service for efficient towing of containers in the City of Sydney. We can help you transport your container to the desired location or even to the customer (in the event of a vehicle breakdown) Tow Trucks in Sydney.
Luxury car crane
If you need to take a vintage or luxury vehicle to an event, you can enlist the help of a Tow Truck near Sydney. We take every precaution when transporting valuables.
How do I get the cheapest quote on a tow truck in Sydney?
When determining the best deal on a tow truck in Sydney, consider the following factors:
Professional service provider
Vehicle owners need peace of mind that they are getting the most competitive towing rates in Sydney. Moreover, the same must be certified, licensed, and a 24-hour tow truck. The level of professionalism you experience with Fast Towing Sydney goes a long way in securing your vehicle. Agency drivers are smart and experienced in dealing with contingencies.
Sydney emergency towing
To ensure you get a reliable emergency towing service in Sydney, car owners must ensure that the towing service is authorized by the relevant authorities. In addition, the professional must have experience in his work. Experienced tow truck drivers must have the necessary skills to ensure vehicle recovery, regardless of vehicle size, 24/7.
It is important to understand that Fast Towing Sydney is a 24-hour towing service provider. We respond quickly to requests for assistance. Our confirmation times can be verified by asking other customers about their previous experiences with other cheap tow trucks in Sydney
The best lottery in Sydney with the right engine
A good Sydney crane company should be successful in providing large volumes of crane services.
Fast Towing Sydney uses the most suitable machines and equipment to handle various types of vehicles and Tow Trucks in Sydney.
As a customer service 1
We never settle for anything less than number one here at Tow Trucks in Sydney.
Fast Sydney Towing is a company that constantly strives for complete customer satisfaction. Our goal is and has always been to be the best crane company in town. That's why we attach great importance to first-class service and customer satisfaction to Tow Trucks in Sydney.
If you want towing assistance from a company that treats you like royalty you should contact Fast Sydney Towing immediately our company, we prioritize listening to our customers' needs and desires. Our goal is to fulfill their requests whenever possible, and we strive to never turn away our loyal customers. Our positive attitude and determination demonstrate to our clientele that anything is possible.
As a customer service 2
If you're stuck on one of Sydney's roads and don't know what to do, call Fast Sydney Towing. Fast Towing Sydney is a highly respected local towing company that can provide you with a quick, convenient, and friendly towing service to get your vehicle off the road as quickly as possible. We offer a variety of services including general auto towing, specialist towing, and roadside assistance Tow Trucks in Sydney.
Our company has always valued fast and reliable support on takeoff. We respect you and value your time. That's why our team members do everything they can to provide our customers with the quickest and most reliable towing services in and around Sydney Tow Trucks in Sydney.
If you have worked with other towing companies, you may have noticed that they do not live up to their promise to be on time and provide a quality and reliable service. We're here to show other towing companies how it's done. Done with the Fast Sydney Towing method, here's how!
Lightning-fast service is the name of the game for our business. If you contact us for pick-up assistance, we'll get back to you shortly. We'll help you Tow Trucks in Sydney get on with your day before you know it. If you're worried that you'll be late for a big work meeting or cancel an important commitment, we can help.