Affordable Tow Truck Services in Sydney: How to Find the Best Deals | Banksia Towing
How to Find Affordable Tow Truck Services In Sydney
Finding an affordable tow truck services in Sydney could be a difficult task, especially when you are stranded on the road and in need of towing. But worry not, Banksia Towing has come up with amazing tips and tricks for you to find the most suitable tow truck anytime you need it. Knowing how to acquire affordable towing can help you save time and money, whether you need to transport large equipment or are in a roadside emergency. After this blog, you will be able to find cheap yet effective tow trucks in Sydney by following the following tips:
Tips For Tow Truck Services In Sydney
Search Online:
Many tow truck companies have websites that show their services and let you know about their work policies. Simply search for an affordable tow truck services in Sydney and go for the most cost-effective option that is suitable for you. You can easily get an idea of the services provided by them by reviewing their website.
Online Reviews:
Depending on the services offered, customers post reviews on business websites. By reading the web reviews left for the company by clients, you may quickly learn about the company's reputation and the quality of its services. This will also protect you from being scammed by shady businesses.
Recommendations from others:
You may also ask your friends and family for suggestions for reasonably priced tow truck services in Sydney. Their expertise can assist you in finding the best tow truck service with the best and most affordable services to help you promptly get back on the road.
Look for Transparency in Cost:
A well-reputed tow truck company will always be transparent in their costs. They will not have any hidden charges. Always ask if there are any hidden charges or extra fees for the services before booking your towing company. It will save you from last-minute distress while paying their charges.
Check Their Experience Level:
Always look for companies with greater working experience, as they are the best and most compatible since they have been working for a long time. Such companies won't let you down in your time of need. Banksia Towing has also been working in the towing business for years, so be assured that if you ever book us, you will never be disappointed with our services.
Look For Licenses And Insurance:
Look for the company's licenses, which were issued by the Sydney government. Every company receives its license after a thorough examination of the services it offers and its capabilities. The best companies to choose are those that have licenses. Similarly, look for companies that are insured. This will also protect you from being misled by fraudulent businesses.
Discounts offered by Towing Company:
If you are ever confused between two companies that provide the same services with the same efficiency, go for the one that provides discounts. It will save you from spending more money when the same cost-effective service is being provided by another reputable tow truck service in Sydney. Many tow truck companies provide discounts to their clients, so always inquire about it while getting a quote.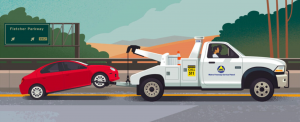 Conclusion:
Affordable tow truck services in Sydney are within reach if you know where and how to look for them. By comparing prices, reading reviews, seeking recommendations from others, and asking about discounts, you can find a reliable towing company that won't break the bank while you are in distress and stranded on the road.
Being prepared with this knowledge can provide peace of mind, knowing that help is just a call away without draining your wallet. Banksia Towing is always here for you, whenever you need us. With our round-the-clock availability and the most affordable rates for tow truck services in Sydney and roadside assistance in Sydney, we have catered to a lot of customers over the years. Call us anytime to get a quote for your needs.