Emergency Towing Services by Tow Truck in Sydney: Fast & Safe Assistance 24/7
Emergency Towing
Emergency towing services plays a very important role in managing the traffic flow and safety on the road. When there is an accident, a vehicle breakdown or any other emergency, a towing service will come to rescue you. Banksia Towing is well-equipped to deal with any kind of vehicle. We are not restricted by the weight and size of the vehicle. Our tow trucks are designed to handle all situations from mechanical failures to collisions. Our tow truck operators are well-trained to deal with any situation and they take you out of trouble in no time.
What is Emergency towing services?
Emergency towing services not only clears the road but also reduces the risk of more accidents. Park your car at a safe point nearby and turn on your hazard lights to alert other drivers. If it is dark and the visibility is low, use flares and reflective triangles to make your vehicle more visible. You can call Banksia Towing for a prompt response. Our team is active 24/7. Our team understands the urgency of the situation very well and help you out accordingly.
Consideration of weather forecast
If there is a forecast of bad weather conditions you should always have the number of Banksia Towing on your speed dial for immediate assistance. When you need emergency towing make sure to provide accurate information about your situation and location. Besides this, it is also very important to be clear about what you expect and how to be safe throughout the process. Keep sitting in your car while waiting for a towing company to reach you to avoid any harm that may be caused due to standing on a road. If you want to leave the vehicle, make sure to stand at a safe distance away from traffic.
Emergency towing services always remove the valuable items from your car when the tow truck arrives and always be careful about the company logo on the truck and the uniform of the operators. Banksia Towing provides 24/7 emergency towing service and reaches the destination at the promised time.
Always make sure to be prepared with the necessary documentation like registration, driver's license and insurance information.  Understanding the procedure and taking safety precautions make it smoother and easier for you and the company as well. You can rely on Banksia Towing for the safest and fastest services. We are available 24/7.
Collaboration with local authorities
When towing companies collaborate with local authorities and insurance providers,  the process becomes easier and it efficiently removes the damaged vehicle from the road and allows the traffic flow to resume normally.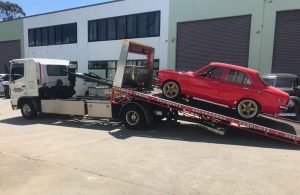 Be seated on the passenger seat
Most of the tow trucks have passenger seats so always be seated while you tow your vehicle. In case you want to leave the tow truck make sure to do so on the side away from traffic. Banksia Towing is known for its best services in town. We provide our services in the most affordable rates. You can call us at any time of the day because we are available 24 hours a day and 7 days a week. call us for Emergency towing services we are have to provide tow truck service in Sydney